MAIN MENU
Multimedia
Pics
Clips
Gifs
Interactive
Chat
Message Board
Top 50 Sites
Fun Stuff
Games
Trivia
Awards
Vote For Me
E-Fed
Poll
Webrings
Carry our banner
Dream Card
Guestbook
Sign Guestbook
View Guestbook
Links
Links
E-mail Me
E-mail me
Site Of The Week
Game Cheats Central
Want your site to be a site of the week? If so, E-mail me with your sites name and url and if i like it, your site will be the site of the week!
Wrestle-Net
www.wrestle-net.freeservers.com
Welcome to Wrestle-Net, your one stop source for all your wrestling needs! This site was made on September 29, 1998 and last updated October 18, 1998! This site is updated daily so that means you will get fast and reliable news! I will keep you posted for updates on my site. Please sign my guestbook and tell me what you think of my site. If you have any questions, comments, or suggestions please E-mail me.


Site notes
-I got a sweet new banner and added it to my carry my banner page.


HEADLINES
We are hiring reporters. If you are interested E-mail me.
FastCounter by LinkExchange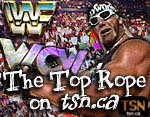 Want your ad here for free? E-mail me for the details!